The foundation of business etiquette is to build strong professional relationships resulting from feeling at ease with people you work with. Business etiquette is not about which fork is to be used but, one's behavior asserts one's professionalism. Business etiquette varies from country to country but some fundamentals are still universal.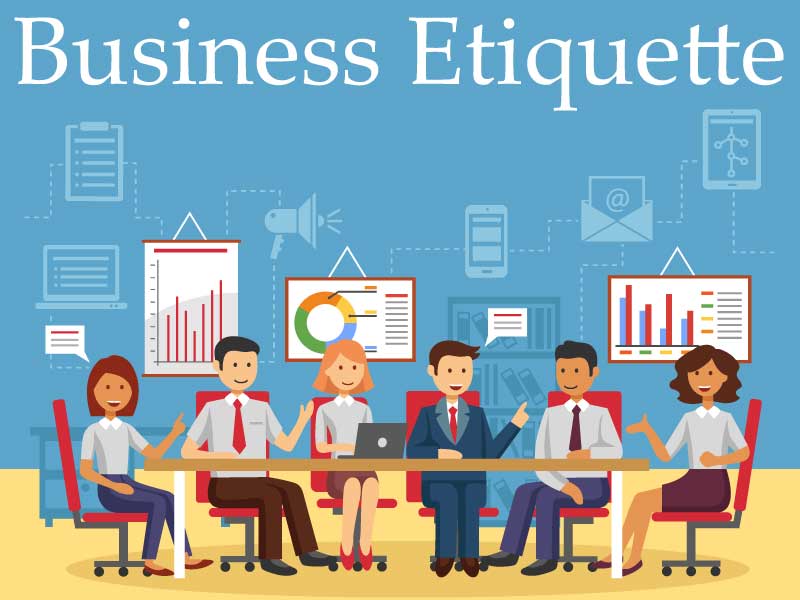 Introduce yourself using your full name for better retention and online searches. Pay attention to others' names as well. Introduce people who you think might not know each other, it makes people feel valued, again by their full names
Shaking Hands demonstrates confidence, approachability. It also sets the tone for further communication. Eye contact also demonstrates confidence and honesty.Greet people when you see them
Punctuality is a virtue that is respected and shows that you value other peoples' time as well as yours
Dress appropriately. Dress code varies from place to place which can be found out from the Human Resource department or by looking at the others around. But the basic clean, pressed clothing and polished shoes never go out of fashion
Be Kind. Speak politely. Be courteous to people. Using please, sorry and thank you wherever needed goes a long way in how people perceive you as a person. Do not bring up controversial topics for discussion, talk on neutral subjects as far as possible
Do not ask too many questions in a meeting or interrupt someone mid-sentence. This is considered rude and a sign of an insufferable know-it-all.
In fact, give non-verbal cues indicating your attention and interest to what is being spoken
No gossiping or backbiting, it not only tarnishes the reputation of the person being spoken about but also brings out your personality of a blabbermouth. Be mindful of being in an environment where you may not know people at a personal level. No whining and complaining about the organization
Declutter your desk. An organized workspace reflects your professionalism
Do not enter into someone's office unannounced. You run the risk of derailing his train of thoughts or intruding into their privacy which is totally uncalled for.
Respect shared space be it the refrigerator, the desk or the printer area. Keep it clean for the next person to use.
Keep emails simple and short and polite. Before clicking the hit button, review your emails for typos or grammatical errors or any source of confusion or misinterpretation
Reply to emails as and when necessary. Do not keep people waiting for your reply. Remove people from email threads if it no longer concerns them
Use the right words, no slang, no loose language. Mind your tongue and you are good to go.
Undeclared and implied business etiquette exists in all company cultures. Maybe not too obvious in the beginning, but following these simple universal rules will help you amalgamate into the organization. Being kind, nice and considerate is what people notice and like, thus help one in becoming a lasting employee or gain ground in the organization