PUNJABI KADHI
Enjoy Punjabi kadhi  pakora's unparalleled taste with chawal or vegetable khichidi and experience the truly blissful feel of classic Indian comfort food. Dahi kadhi is prepared with besan, curd and delicious besan pakora.
PREPARATION TIME-20 MIN
 SERVES-4
INGREDIENTS -FOR PAKORA
1/2 CUP BESAN OR GRAM FLOUR
1/2 CUP FINELY CHOPPED ONION
1 GREEN CHILLI
A SMALL PINCH OF BAKING SODA
1/3 CUP OF WATER
SALT
OIL FOR DEEP FRYING.
FOR KADHI
1 CUP OF SOUR CURD
1/4 CUP BESAN
1  CUP WATER
1/4 TURMERIC
SALT
DIRECTIONS OF MAKING PAKORA-
Mix  gramflour ,onion, green chillies,baking soda and salt in a bowl. Add water  in small quantity and make a thick batter. Heat oil ,take spoonful of batter in between your fingers, drop 5-6 pakoras in single batch.
DIRECTION OF MAKING KADHI
*Beat curd and gram flour in a bowl with hand beater,add water ,turmeric and salt.Blend all ingredients until smooth batter.Ensure that there are no lumps.
*Heat 1 tablespoon oil in a medium size pan.Add mustard seeds and fenugreek seeds,add  cumin seeds and grated ginger ,sauté for 20 secs.
*Add prepared batter with the above prepared oil, cook on medium flame until raw smell of gram flour goes away for 8-10 mins.
*For tempering ,add oil in pan, add dry red chilli and red chilli powder, immediately pour it over prepared kadhi.
*Add fried pakoras ,mix well and cook for 3-4 mins .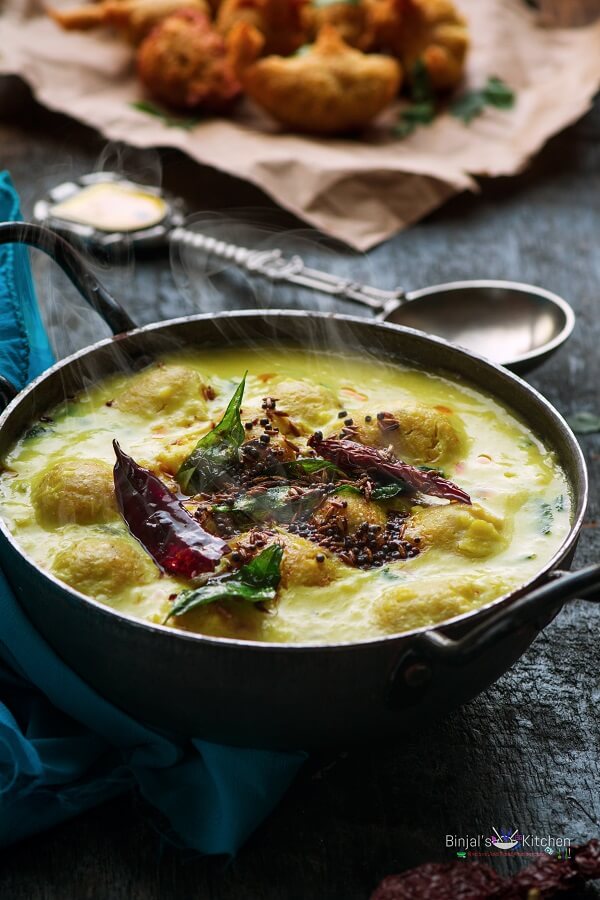 DR.SHIREESHA MADDALI