RASAM:-THE SOUP OF SOUTHINDIA
Rasam is a southindian curry/soup usually had with rice.It is called as CHAARU in telugu and kannada.
INGREDIENTS:
Tamarind-lime sized.
Tomato-1 finely chopped.
Green chilly -1.
Turmeric powder-1/4tsp.
Water-3 cups.
Salt-to taste.
Oil-2tsp.
Mustard seeds-1/2tsp.
Curry leaves-7 leaves.
Asafoetida powder-1/2 tsp.
Coriander leaves-handful (chopped).
RASAM POWDER INGREDIENT
Black peppercorn-3tsp
Cumin seeds-2 tsp
Coriander seeds-1/2 tsp
Toor dal-1tsp
Red chilly-1 or 2
Garlic-3-4 cloves
curry leaves-few
METHOD
Coarsely grind all the items under "rasam powder ingredients".add the garlic while making this powder.
Soak the tamarind in a cup of a warm water for 5mins to extract the pulp.
Heat little oil in a pan and pop the mustard seeds and curry leaves.
Add the RASAM MASALA/POWDER, crushed green chilly and chopped tomato.
Let it cook for couple of minutes until the tomatoes become soft and juicy.A nice aroma of the roasted spices will come.
Now add tamarind pulp,turmeric powder, aafoetida, salt, coriander leaves and 3 cups of water.
When the rasam is about the boil,you will see it foaming. Switch it off this stage before it comes to a full boil.
Keep it covered with a lid to retain its aroma until you are ready to serve.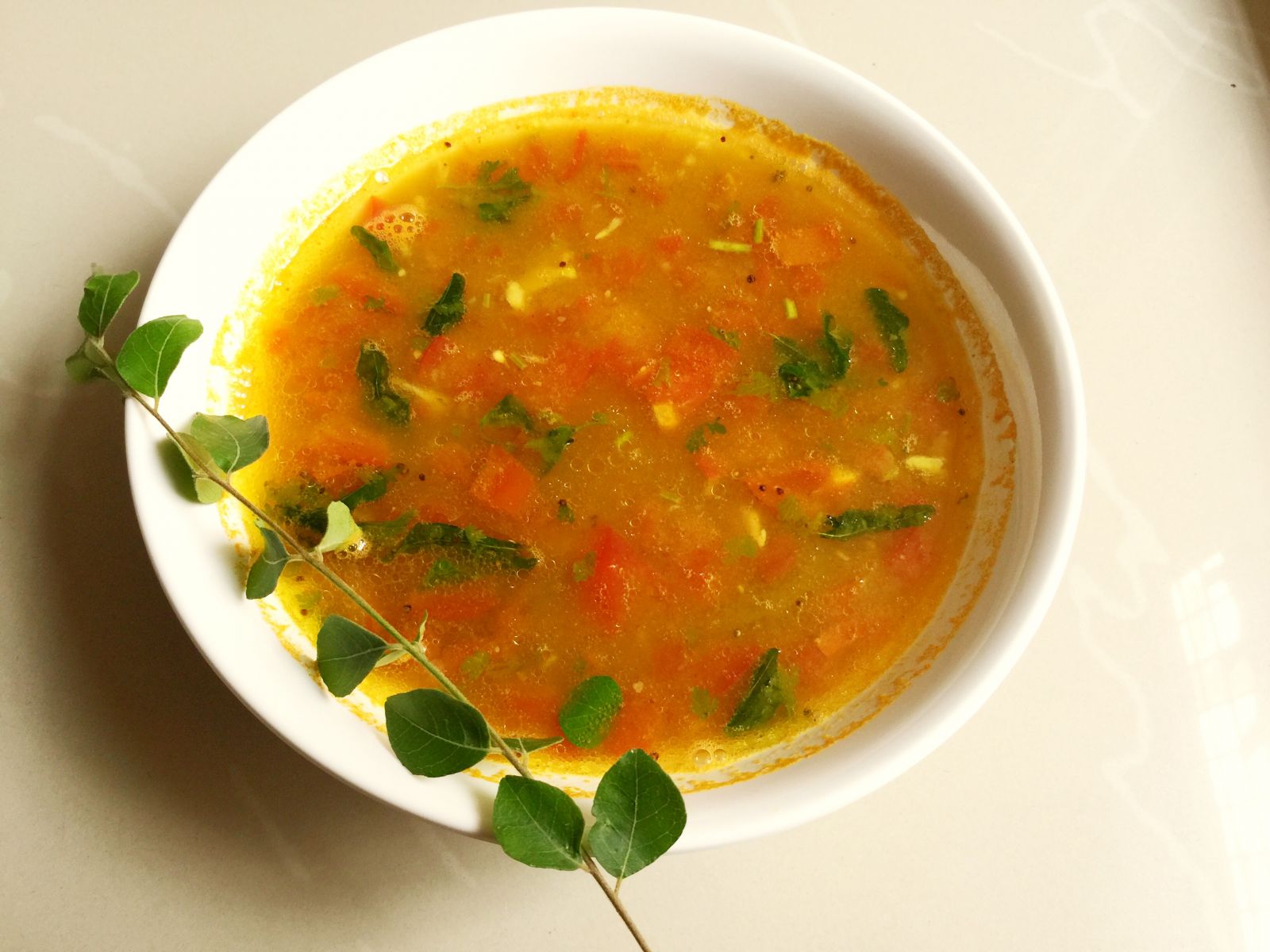 NUTRITIONAL VALUE
TOTAL FAT-0.6g
CHOLESTROL-0.0mg
SODIUM-3.0mg
POTASSIUM-137.9mg
PROTEIN-2.0 g
Dr.Shireesha Maddali